Micropigmentation Experts
35+ Years of Experience
15+ Years in the Middle East
Award-winning micropigmentation experts offering procedures and training courses in Dubai and the Middle East.
What our clients say
I found Candice through a friend of mine who had several treatments done by Candice. I needed work on my areola after surgery and was amazed at the results. I now have my confidence back!

Sarah, Dubai
Candice is the best at micropigmentation. I visit her yearly for any micropigmentation treatments I require and I always recommend Candice to my friends.

Susan, Dubai
Tattoo Removal – Safely Remove Any Colour Pigment
Our Tattoo Removal process offers far safer and superior results compared to laser tattoo removal.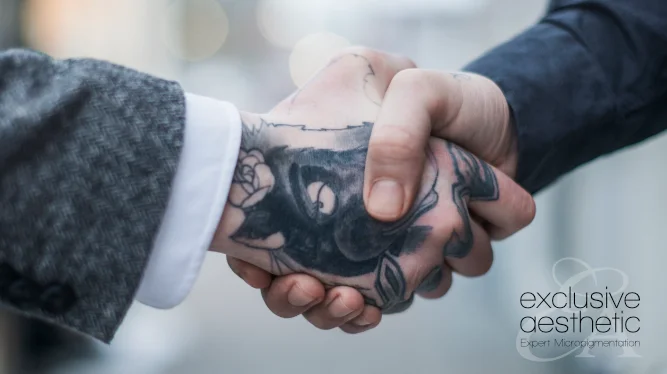 We are experts at removing tattoo pigment from the skin and have over 35 years of experience performing tattoo removals.
We insert a specially formulated removals cream into the surface of the tattoo. The cream combines itself with the tattoo pigment, and both are expelled from the skin over several weeks.
Scar Removal – Improve a Scar's Appearance
We use a process called MCA to flatten the scar and Scar Camouflage to blend the scar's appearance with the surrounding skin.
Nearly all scars first require several sessions of MCA. This process flattens the scar's surface, and in most cases, this process naturally repigments the scar.
If more pigment is required, then we mix bespoke coloured skin pigments specific to each client and apply these to the scar's surface.
Permanent Makeup Removal – Correct a Bad Procedure
Had a poor semi permanent makeup procedure? Is there an obvious mistake or alignment issue?
We use the best pigment removals system to remove semi permanent makeup pigment from the delicate areas of the face.
Once removed, we can apply pigment to the look you originally wanted – the correct shape and look.
Scalp Micropigmentation – The Natural Solution for Hair Loss
We apply tiny dots of pigment to the scalp or hairline to look like a buzz cut; a very natural solution for baldness and great for defining hairlines.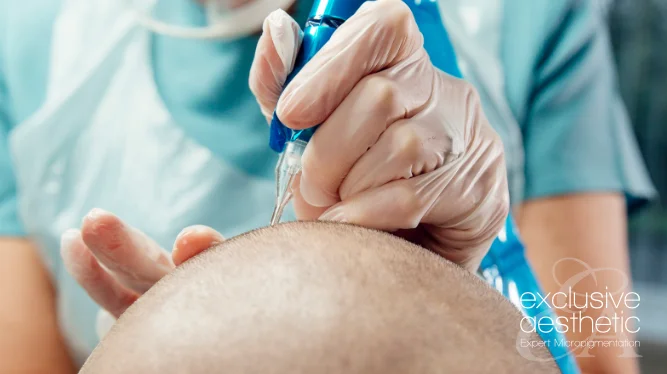 Our award-winning scalp micropigmentation procedures offer an effective solution for hair loss.
Our specialist pigments are applied to the scalp as a series of tiny dots in a random pattern creating the look of individual hair follicles and hair roots at the skin level.
This is a great solution for anyone with thinning hair or baldness with natural results.
Areola Reshape & Creation – Post-Surgery or Cosmetic Improvement
Areola tattooing is a great solution for women after surgery or for anyone wanting to define the look and symmetry of the areola.
We expertly add pigment to reshape and perfect imperfections or add natural-looking areola post-surgery.
Each areola is different and a combination of colours. We mix a blend of pigments to match each client's areola and apply them to reshape and define. Or to add a complete 3D areola after surgery.
We pride ourselves in delivering this industry-leading micropigmentation procedure.
Semi Permanent Makeup – Always Perfect Eyebrows, Eyeliner & Lips
Our award-winning makeup is always perfect and smudge-free, lasting up to 3 years!
We have over 35 years of experience performing micropigmentation treatments, including semi permanent makeup, and we feel our treatments are some of the best available.
Why not treat yourself to Semi Permanent Makeup to enhance the eyebrows, give a subtle look to eyeliner and define the lips with lip liner or lip colour? Our semi permanent makeup treatments are smudge-free and last up to 3 years.
Medical Micropigmentation – For Skin Damage and Imperfections
We are experts at applying pigments to the skin. Our award-winning medical micropigmentation procedures treat various conditions, from Vitiligo to Alopecia and skin imperfections.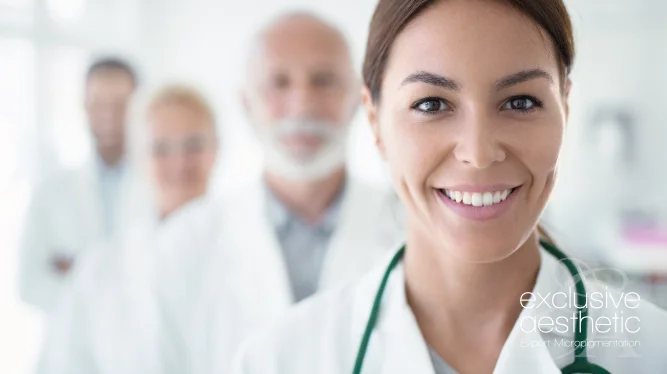 Feel confident you are in expert safe hands with our award-winning medical micropigmentation procedures.
Pharmaceutical-grade pigment is applied to the skin to conceal skin damage and imperfections.
You will be amazed by the results. Please contact us for more details.
Training Courses – Beginner and Advanced Courses Available
Train With The Best! Our training courses are taught by Candice Watson, who has over 35+ years of experience.
Learn the art of micropigmentation with our award-winning training courses. All courses are to the highest industry standards and give you the confidence to perform micropigmentation treatments anywhere in the world.
Training courses include Semi Permanent Makeup, Medical Micropigmentation, Tattoo Removal, Skin Rejuvenation and Scalp Micropigmentation.
Please contact us to discuss how we can help you achieve your training goals.
Industry Expert, Candice Watson, with 35+ Years of Experience
Candice Watson is one of the best practitioners in the world of micropigmentation, offering industry-leading procedures and training in Dubai and the Middle East.
With over 35 years of experience performing treatments and teaching micropigmentation, Candice is a respected tutor and practitioner of micropigmentation techniques.
Candice Watson performs all treatments at C37 in Dubai Healthcare City.
Multiple Award Winner – 5 Star Service
We proudly announce Exclusive Aesthetic are UAE Business Award winners for three consecutive years.
Awards include:
Best Micropigmentation Specialist
Best Micropigmentation Trainers
and Best Scalp Micropigmentation Specialist.
Appointments
Make an appointment, as usual, using the floating widget at the bottom right of the page to fill out our contact form.
Sitelinks
Tattoo Removal Dubai

Safer than laser tattoo removals – Our tattoo removal process draws pigment up and out of the skin. Laser tattoo removal blasts the pigment and can push some pigment deeper into the skin.

Natural method – We use micropigmentation needles to insert a unique removal cream that attaches itself to the tattoo pigment. The cream then combines with the pigment, and the mixture of pigment and cream is expelled naturally from the skin.

Less risk – If the aftercare instructions are followed, there is almost no risk of scarring. Compare this to laser tattoo removal, which has a 75% risk of scarring.

Less painful – Our procedure naturally removes pigment and does not burn the skin like laser removal.
Scar Removal Dubai
MCA and Dry Needling is the go-to procedure for accident scars, scars due to operations, mild to severe burn scars, or mild to severe skin damage and imperfections.


Most scars have caused significant damage to the skin and are either raised or indented.

Scars look better if they are flat; therefore, for raised or indented scars (not flat), we perform several treatment sessions of MCA and Dry Needling.

MCA uses dry needles with no pigment to aggravate the scar's surface. In most cases, this aggravation of the scar's surface activates the collagen beneath the scar to flatten and naturally re-pigment the scar.

If the scar is still visible after a course of MCA and Dry Needling, then a course of Scar Camouflage is required.

MCA can be performed on your first visit, straight after a consultation. Treatment appointments are usually 30 to 60 minutes, depending on the scar size.
Permanent Makeup Removal Dubai
Remove and Correct SPMU Pigments with 100% pigment removal.


In most cases, we see 100% removal of badly performed permanent makeup or semi-permanent makeup procedures.
Permanent makeup removal requires a course of treatment sessions 4 to 8 weeks apart. The time between each treatment session is to allow the skin to heal fully.

Our PMU pigment removal method is a much gentler way of removing pigment from the skin. Permanent makeup removal is essential for anyone unhappy with their semi-permanent makeup treatment.


Candice Watson and Exclusive Aesthetic are experts at removing pigment from the delicate areas of the face, the eyebrows, eyelids and lips. However, we are also experts at applying pigment to the skin for cosmetic and medical procedures.


Therefore we can remove the pigment entirely or we perform a corrective procedure whereby, over several sessions, we remove any mistakes and reapply pigment to the correct shape, positioning and alignment, achieving the look you originally wanted.
Scalp Micropigmentation Dubai
Hair and Scalp Micropigmentation is an effective procedure for both men and women who are suffering from a range of hair loss and scalp conditions, from alopecia to pattern baldness or hair loss due to scars and burns.


We use micropigmentation to add small dots of hair-coloured pigment to the skin either on the scalp, beard or hairlines. These small dots mimic hair follicles (hair roots) and give the impression of dense hair.

The pigments and needles used for hair and scalp micropigmentation are specially designed to work on the scalp and beard. The micron count of hair and scalp pigments is higher than face and body pigments used for cosmetic micropigmentation, including semi permanent makeup.

Hair and scalp micropigmentation is cheaper than hair transplants and does not require surgery.
Candice Watson – Micropigmentation Expert
Candice has over 35 years of experience offering micropigmentation treatments and training courses to the highest level in the UK, Middle East and internationally.

Candice has won numerous awards for her micropigmentation training and treatments, so you can rest assured that you are in expert and competent hands.

Our Contact Details and How to Find Us
Our location details and contact details are on our contacts page here.